Sadamitsu Shokuryo Kogyo continues to foster perfection in "breed", "quality", and "production", so that we can provide the most delicious poultry to all of our customers. Please allow us to explain how we achieve our flavor and quality.
Our Selective Breeds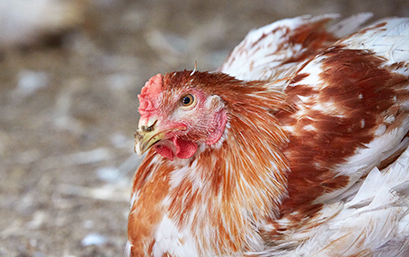 Brand name chickens and Jidori are raised with care in an all-natural environment
Starting with "Awaodori", a Jidori chicken native to local Tokushima, Sadamitsu Shokuryo Kogyo raises brand name chickens/Jidori called "Jiyoakadori" and "Jiyodori". Anyone who tastes our product agrees that all of our birds have good flavor and high quality meat. For more information on the chickens we raise, please take a look at the "secrets to our flavor" page.
Our Impeccable Quality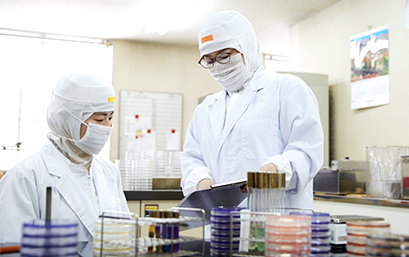 An important part of quality is being able to give customers peace of mind.
"Safety and reliability" are big factors that people look for when it comes to food. We want to assure our customers that the utmost attention is given to all details regarding product quality.
We are proud to be able to provide all consumers with peace of mind through indispensable quality control of our processing and chilling methods.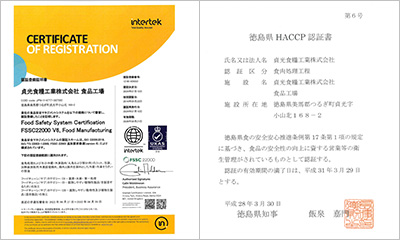 <Our Impeccable Quality Control>
Sadamitsu Shokuryo Kogyo is a company skilled in quality control with certification in FSSC22000 and in Tokushima HACCP (certification of sanitary control).
FSSC22000 is a global standard of quality control with incredibly high standards putting any corporation on a level to do business with prominent global companies.
Tokushima HACCP is evaluated by HACCP system, which is well-known internationally as one of the methods of sanitaion management, and is regulated by the regulation promoting safety of Tokushima foods.
Company in Tokushima will be able to be certificated Tokushima HACCP, not only because they have attitude towards sanitation management, but must reah at the amount of the standard of this regulation.
We are certified in this standard and with that, can ensure our customers' peace of mind.
Impeccable Production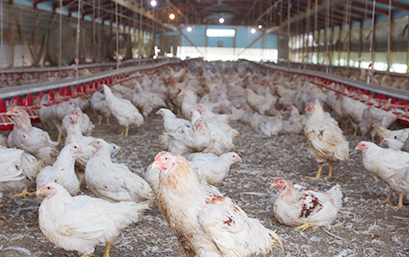 Six important points of Sadamitsu production
1Breeding Environment

We keep the chickens in a rich natural environment within the mountains of Shikoku.

2About "Feed Safety"

3Domestic Feed Use

The rice feed comes from local farmers that we have a joint cooperation with.

4About Special "Jiyoso" Feed
We raise our chickens with particular attention to their nutrition. Along with a mixture of natural raw materials, feed containing "Jiyoso" as a base, we also give Awaodori, Jiyoakadori, and Jiyodori chickens olive powder which intensifies their flavor.
The key to raising delicious poultry /Jidori is to use the best feed for eliminating the pungency of the meat and that brings out a lustrous and resilient final product.>Jiyoudori-Kyoukai
<Jiyoso Combination Feed>
Feed containing Jiyoso is a natural feed made up of purified wood vinegar, zeolite, Japanese mugwort, and seaweed.
This feed causes alkalization in the flesh making for a healthier constitution. It also diminishes the characteristic
odor of chicken meat and gives the product a smooth, mild body.